The Hub-Spoke-Axle Model
The Kavli Center for Ethics, Science, and the Public leverages the comprehensive excellence of Berkeley's top scientific and professional schools, centers, and institutes.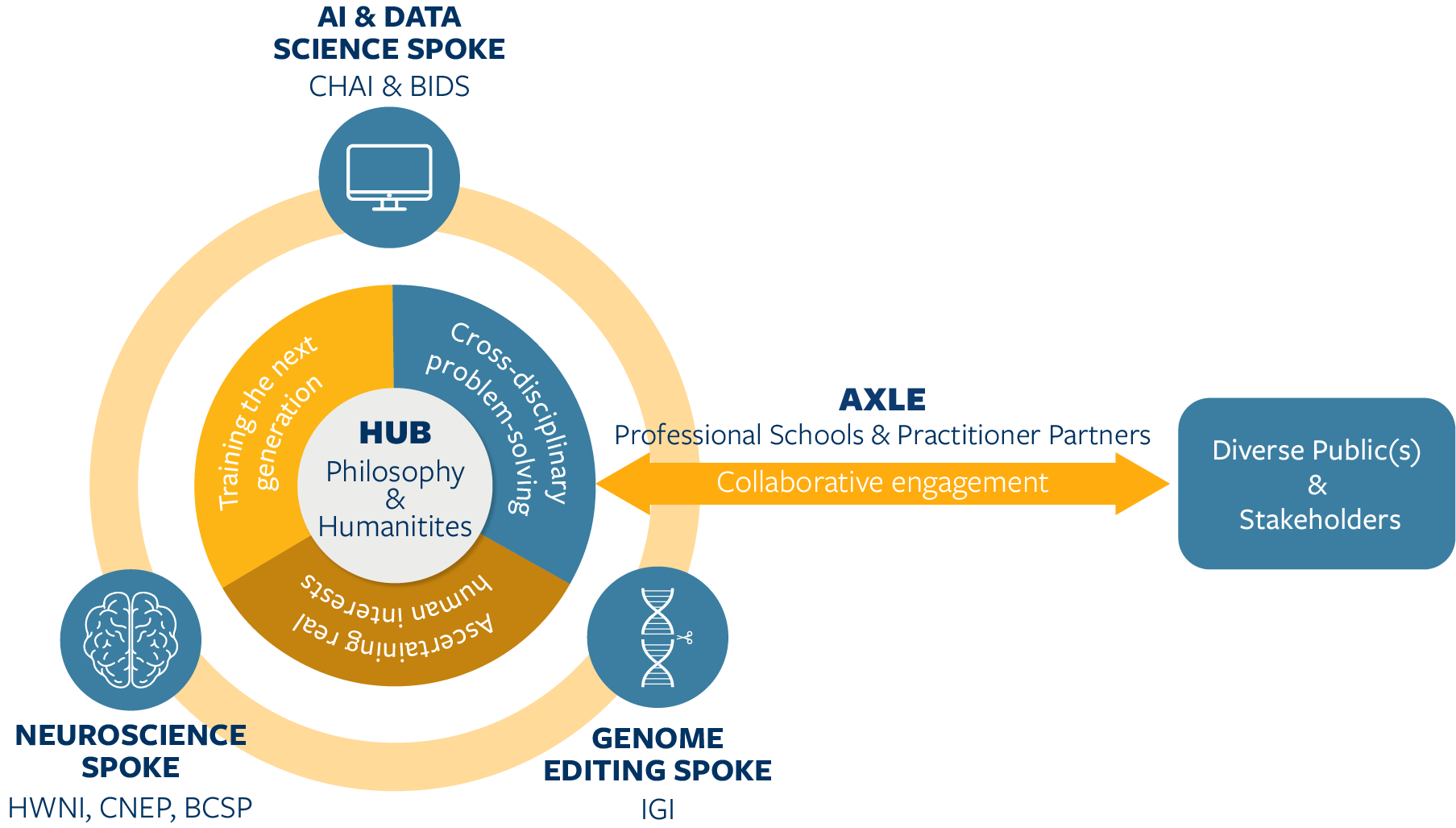 "Hub" Partners 
Humanities and Ethics
Ethics and relevant humanities disciplines are central to the activities in the hub of the Kavli Center, as well as the work of social scientists who study the interaction between technology and society and participatory research methodology. Numerous faculty members in the Philosophy Department at Berkeley are leading contributors to contemporary debates in ethics, political philosophy, and related areas. To provide our scholars with maximum exposure (and to more widely share the work of the Kavli Center), the Center will engage with the annual Tanner Lectures on Human Values, which bring leading scholars from philosophy and other disciplines to Berkeley to address fundamental issues bearing on ethical and other values.
In addition to moral philosophy, the Kavli Center also seeks to take advantage of the full richness of the humanities at Berkeley, bringing imaginative and literary resources to bear on the task of thinking about the effects of transformative technologies on society. The Townsend Center for the Humanities and the Center for Science, Technology, Medicine, and Society are important Berkeley resources for cross-disciplinary research, teaching, and outreach.
"Spoke" Partners
The initial "spokes" of the Center connect to well-established research efforts that facilitate transformative science and tackle core ethical issues. Regular horizon-scanning activities will ensure that new "spokes" are added on a periodic basis.
Genome Editing 
Innovative Genomics Institute
In the Genome Editing spoke, the Kavli Center partners closely with the Innovative Genomics Institute (IGI). The IGI was founded by Nobel laureate Jennifer Doudna as a joint effort between two leading scientific research institutions, UC Berkeley and UC San Francisco. The IGI's mission is to accelerate genome discovery and translation in order to ethically and equitably improve human health and sustainable agriculture. Toward this end, the IGI has research programs in the life sciences and a public impact program area, which supports research in ethical, legal, and social implications of genome editing, and conducts engagement, education, and policy work. Additionally, the IGI has hosted a series of workshops and public fora on ethics, governance, and public engagement in genome editing including "CRISPR Consensus?," a public debate on human germline editing. The IGI also hosts the Berkeley Ethics and Regulation Group for Innovative Technologies (BERGIT), an interdisciplinary team led by Jodi Halpern with expertise in ethics, law, and molecular biology. BERGIT serves as one of the models of engagement and deliberation for the Kavli Center.
---
AI and Data Science  
Center for Human-Compatible AI
For the AI and Data Science area, the Kavli Center will build on a range of strong research programs both within and external to Berkeley. The Center for Human-Compatible AI (CHAI), led by Stuart Russell, is a multi-site research center headquartered at Berkeley with branches at Michigan and Cornell. CHAI's aim is to reorient AI research toward provably beneficial systems, over which humans can retain control even as they approach or exceed human-level decision-making capabilities. Because the meaning of beneficial depends on the properties of humans, this task inevitably includes elements from the social sciences in addition to AI. The Center builds upon CHAI's expertise in bridging the gaps between engineers and social scientists and humanists.
Berkeley Institute for Data Science
The Center also works closely with the Berkeley Institute for Data Science (BIDS), founded and directed by Saul Perlmutter. BIDS provides the Center with a proven model for integrating expertise across domains via a longstanding program of cross-training postdoctoral fellows from non-data science backgrounds in data science. BIDS also offers the Center the examples of BIDS' "Cross Domain Initiatives" (XDs), which create cross-disciplinary teams working together to identify common principles, algorithms, and tools. In particular, BIDS' Ethics XD serves as an exceptional model for organizing cross-disciplinary workshops, symposia, and working groups on ethics in AI and Data Science.
---
Neuroscience
Helen Wills Neuroscience Institute
For the Neuroscience area, the Kavli Center works closely with the Helen Wills Neuroscience Institute (HWNI), which coordinates neuroscience research, training, and education across the Berkeley campus. The HWNI houses several centers that focus on specific aspects of neuroscience or neurotechnology that have direct ethical implications. 
Center for Neural Engineering and Prostheses 
The Center for Neural Engineering and Prostheses (UC Berkeley / UC San Francisco) focuses on the development of prosthetic devices for brain recording and for stimulation. These rapidly developing neural technologies have profound ethical implications: neurotechnologies such as deep brain stimulators can disrupt peoples' sense of self and make it difficult for them to ascribe causality to their actions; and invasive and non-invasive neural recordings have the potential to expose substantial private information about peoples' inner mental life.
Berkeley Center for the Science of Psychedelics
The new Berkeley Center for the Science of Psychedelics studies the mechanisms of action of psychedelic drugs and their potential for clinical use. These powerful drugs also have important ethical implications because they can alter an individuals' attitudes and beliefs about the self and society.
"Axle" Partners
Beyond the exemplar work of the spokes, the Center draws upon Berkeley's many existing assets in our professional schools to translate ethical analysis (or moral uncertainty) about anticipated technical developments to many different public arenas, from influencing public policy to K-12 education. These collaborations enable the co-creation of new forms of effective engagement with a variety of publics in the context of science and technology.
Public Policy and Law
The Goldman School of Public Policy and Berkeley Law both provide a strong base for the Center to provide exposure to and education in the mechanisms for affecting public policy, law, and regulation. In particular, the Center will leverage the work of the Berkeley Center for Law and Technology, which seeks the ethical advancement of technology by guiding the development of intellectual property law, information privacy law, and related areas as they interact with science and innovation.
---
Business
The Haas School of Business offers expertise in reaching broad audiences of seasoned executives and professionals in business, civil society, and government, as well as instilling reflective thinking about the societal effects of complex scientific and technological developments. Although several centers at Haas engage in this work, the Center for Responsible Business is most notable here because it focuses on mobilizing business and technology to create a more just society.
---
Public Health
The School of Public Health has long been a pioneer in public outreach and community-based participatory research, leading the way for the development of new forms of this approach and often serving as one of the most community-facing departments at Berkeley. The Center looks to the School of Public Health as a leader and educator in how to best bring together the principles of community-based participatory research with scientific discovery.
---
Journalism
Undergirding all of the Center's work is a growing partnership with the Graduate School of Journalism (GSJ), representing a commitment to the importance of science communication and public engagement. The GSJ, one of the top graduate journalism programs in the United States, has a strong track record of fostering honest, probing journalism that is crucial to a just society. The school's programs span news reporting, documentary film, audio reporting, video reporting, and digital media, ensuring that both student and faculty reporting reaches wide and diverse public audiences. In early 2020, the school established a collaboration with The New York Times to provide critical reporting on the COVID-19 pandemic under the leadership of former Times investigative reporter David Barstow and current Dean Geeta Anand. The collaboration later expanded to include election coverage and additional news outlets, including NPR, The Atlantic, and National Geographic, among others. The school has several core faculty teaching and advising in relevant areas, including author Michael Pollan, New York Times science writer Jennifer Kahn, environmental reporter Mark Shapiro, science historian Elena Conis, and media ethicist Ed Wasserman.
---
Outreach
Berkeley is also fortunate to have the opportunity to engage with future scientists, ethicists, and public thinkers at the earliest possible stages of their development through the Lawrence Hall of Science (LHS), a national leader in K-12 outreach and curriculum development. The Center will engage LHS in understanding the best practices and methodologies for incorporating philosophical and ethical approaches to science into national curricula and will build upon LHS's ongoing work with the Innovative Genomics Institute encouraging students to consider how science and innovation affect their communities.